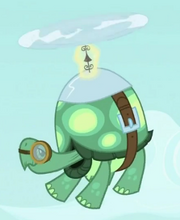 Tank makes his first appearance in the Episode May the Best Pet Win!
Depiction in the series:Edit
He is introduced in the Episode May the Best Pet Win! He's actually named after Rainbow Dash had chosen him as her new pet. He was chosen over a handful of other pets.
Nomenclature
Edit
Through the entire Episode, Fluttershy insistently correct to the others when they mistake Tank for a "turtle", instead of a "tortoise".
Merchandise:
Edit
Rainbow Dash, her toy comes with a with a turtle that was presented at ASM's 2011 Toy Fair, and is later sold in retail. This episode is written at the same time, just about a year prior to the episode's airing.
References:
Edit
Ad blocker interference detected!
Wikia is a free-to-use site that makes money from advertising. We have a modified experience for viewers using ad blockers

Wikia is not accessible if you've made further modifications. Remove the custom ad blocker rule(s) and the page will load as expected.